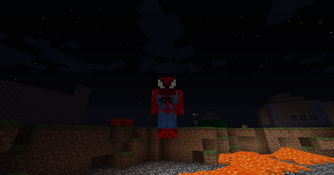 Spider-Man is also a mod by Colossali. It just adds Spider-Man to the game.
Web Shooters
Web sling
Web balls
Cloth
Spiderman Sui
Radioactive Spiders (Food)
Radioactive Spider
Edit
Spider Man
Spider-Man will be updated when he is added to the SHIM mod.
Colossali also created three other Mods:

SVIM(Super Villians inx Minecraft)
SHIM(Super Heroes in Minecraft)
Batman(W.I.P.)

Spider-Man and all mods owned by Colossali were updated to 1.6.4

But the mods won't get any new features until Forge updates to 1.7.2.

Want the mod go here:
Ad blocker interference detected!
Wikia is a free-to-use site that makes money from advertising. We have a modified experience for viewers using ad blockers

Wikia is not accessible if you've made further modifications. Remove the custom ad blocker rule(s) and the page will load as expected.