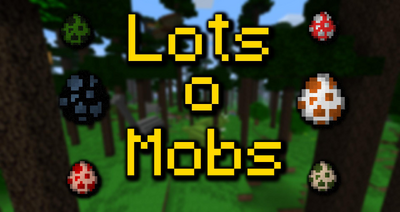 LotsOMobs is a mod for 1.9 that will give one's game a lot of life and adventure aspects. This mod adds over 45 new mobs that come together with tons of items and blocks than can all be obtained in Survival Mode. As well as those features, the LotsOMobs mod adds two new dimensions: the Dinosaur and Ice Age dimensions.
For a detailed list of all this mod's features, go to larsmods.com/lotsomobs.html:
43 new mobs!
Tons of matching Items
Tons of new Blocks
A way to travel back in time and live together with all the creepypastas!
And a make the life feel very scary and alive!
Amber Ore
Dino Leaves
Dino Sapling
Dino Wood(planks and stairs)
Fossil Ore
Ice Coal
Ice Fossil
Icemintuim Ore
Flowers
Ice Stone Bricks
Ice Gate
Dino Gate
Bee Hive
Tomato plant
Pineapple plant
Ancient Fire
Dino Portal
Dino Logs
Ice Age Portal
Ice Cobble
Ice Iron Ore
Ice Stone
Savanna Weed
Easter Egg
Angora Wool
Spinning Wheel
Portable Dracula Machines
Flint and Fossil
Cacti on a Stick
Horn
Deer Fur
Dino Skin
Ivory
Wooly Fur
Amber
Spear Tip
Icemintuim Bar
Fossils
DNA Solvent
DNA
Dimensions
Edit
Dinosuar Dimension
Ice Age Dimension
Honey
Tomato
Pineapple
Meats(Boar, Deer, Lion, Whale, Camel, Reptile, Penguin, Frog Legs and Mammoth)
Weapons and Tools
Edit
Wild Mother's Claw
Ivory Tools(sword, pickaxe, shovel, axe, hole)
Amber Tools(sword, pickaxe, shovel, axe, hole)
Spear
Icemintuim Tools(sword, pickaxe, shovel, axe, hole)
Deerfur Armor
Dinoskin Armor
Eskimo Armor
Amber Armor
Icemintuim Armor
Santa Suit
Deer
Ants
Bird
Bunny
Camel
Cockroach
Easterbunny
Eskimo
Gekko
Gorilla
Lizard
Herobrine
Penguin
Sabertooth
Snake
Dinosaurs(T-Rex, Triceratops, Raptor, Brontosaurus, Pterosaur)
Turtle
Whales(Normal Whales, Narwhales)
Frogs(Bullfrogs, Normal Frogs, Poison Dart Frogs Entity 303 frogs.)
Nullorms.
Flying Critters(Flies, Fireflies, Butterflies, and Bees)
Vulture
Squirrel
Santa Clause
Bears(Normal Bears and Polar Bears)
Mammoth
Lion
Giraffe
Fishy
Elephant
Crocodile
Cave Man
Boar
Goats
Hermit Crab
He won't add more Mobs over time! Is no longer updated.
He won't add more Mobs over time! Is no longer updated.
Ad blocker interference detected!
Wikia is a free-to-use site that makes money from advertising. We have a modified experience for viewers using ad blockers

Wikia is not accessible if you've made further modifications. Remove the custom ad blocker rule(s) and the page will load as expected.