The Creeper Stats is used to check the information of your pet creepers. It is part of the Mutant Creatures Mod. Everybody admin is gonna be on this server soon bc of interest and everyone friend him its hyPerFearless
Crafting
Edit
|        Ingredients |                                     Input-Output |
| --- | --- |
| Cobblestone+Gunpowder | |
Right-click a tamed creeper minion with this to see its info. You can even change its name and if it destroys blocks or not. To change the name click the top button and type in the new name. Then click it again to finalize the name.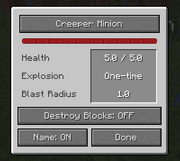 Ad blocker interference detected!
Wikia is a free-to-use site that makes money from advertising. We have a modified experience for viewers using ad blockers

Wikia is not accessible if you've made further modifications. Remove the custom ad blocker rule(s) and the page will load as expected.